Bob Margolin: « You're a Blues Player of the World »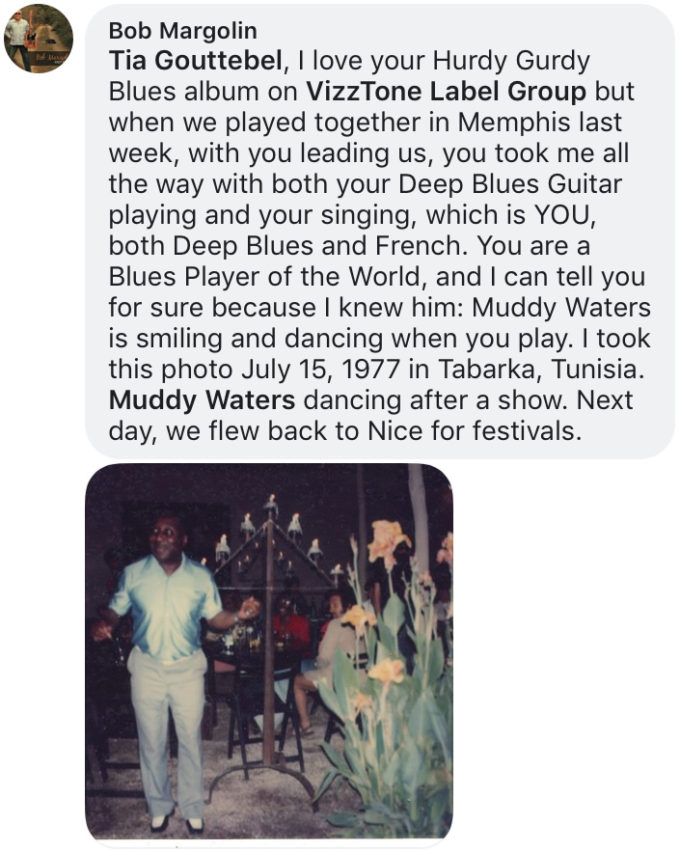 Tia Gouttebel, I love your Hurdy Gurdy blues album on VizzTone Label Group but when we played together in Memphis last week, with you leading us, you took me all the way with both your Deep Blues Guitar playing and your singing, which is YOU, both Deep Blues and French. You are a Blues Player of the World, and I can tell you for sure because I knew him: Muddy Waters is smiling and dancing when you play. I took this photo July 15, 1977, in Tabarka, Tunisia. Muddy Waters dancing after a show. Next day, we flew back to Nice for festival.
Backing musician for Muddy Waters from 1973 to 1980, Bob Margolin has been leading his own successful career ever since. His last album, My Road, released in 2016, won two Blues Blast Magazine Award and earned three Blues Music Award nominations, including a win for Best Male Traditional Blues Artist.